Stella is partnering with NHS GP practices to help find the right menopause care and treatment for your patients. Stella offers comprehensive, personalised and accessible menopause care, including clinical decision support for clinicians and a coaching app for patients.
Find what you need quickly
What is Stella?
Stella is an MHRA-approved clinical decision support tool designed to provide better menopause care for patients – and save precious GP time.
The 10-minute assessment is completed online in a patient's own time. It consists of 60-90 questions that gather information on a patient's medical, medication and family history, as well as their symptom severity and personal preferences. It rules out alternative conditions and accounts for risk factors for taking HRT.
The algorithm then generates a personalised clinical summary, including specific medication recommendations where appropriate, and sends this to the GP. In the meantime, patients can access lifestyle change support.
Stella has been amazing – straightforward cases are much faster, thanks to the very specific (and appropriate) prescribing advice. It also saves time for patients who require a GP appointment, as the history-taking is completed in advance. And patients really like it."
How can Stella help?
Some GP practices have menopause specialists, but this isn't always the case. Either way, our service speeds up decision-making while ensuring care is always thorough and patient-centred.
It saves time. Using Stella, up to 60% of patients can be safely prescribed HRT without needing an appointment. For those who do need an appointment, Stella does lots of the work for you – you already have the patient's full history. Potential time saved? Over 4 hours of GP time per month per 10,000 patients.
It's safe. Stella is registered as a Class-1 medical device with the MHRA. In addition, we are CQC-registered. Our product was developed over three years by world-leading menopause specialists. All recommendations align with the latest NICE and BMS guidelines.
It improves patient outcomes. Patients receive excellent, highly personalised care – fast.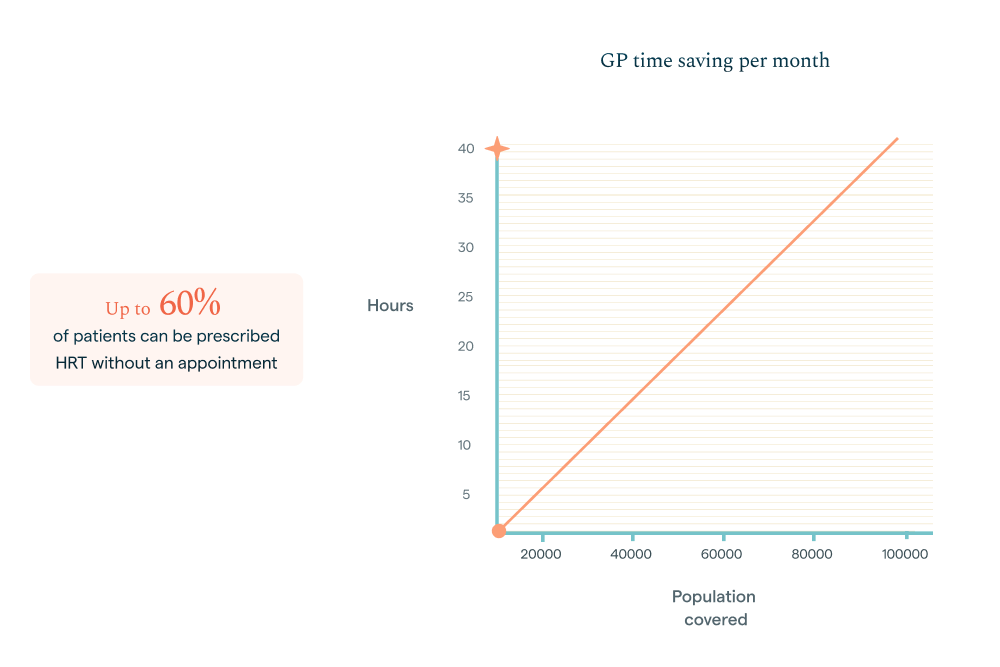 How does Stella work?
The Stella service is seamless – no complicated software integration is required. Simply:
Link to our online assessment from your website or
Share the link with your patients via text
The results
Once a patient completes our 10-minute assessment, we send your surgery a clinical summary of our findings on the same or next day.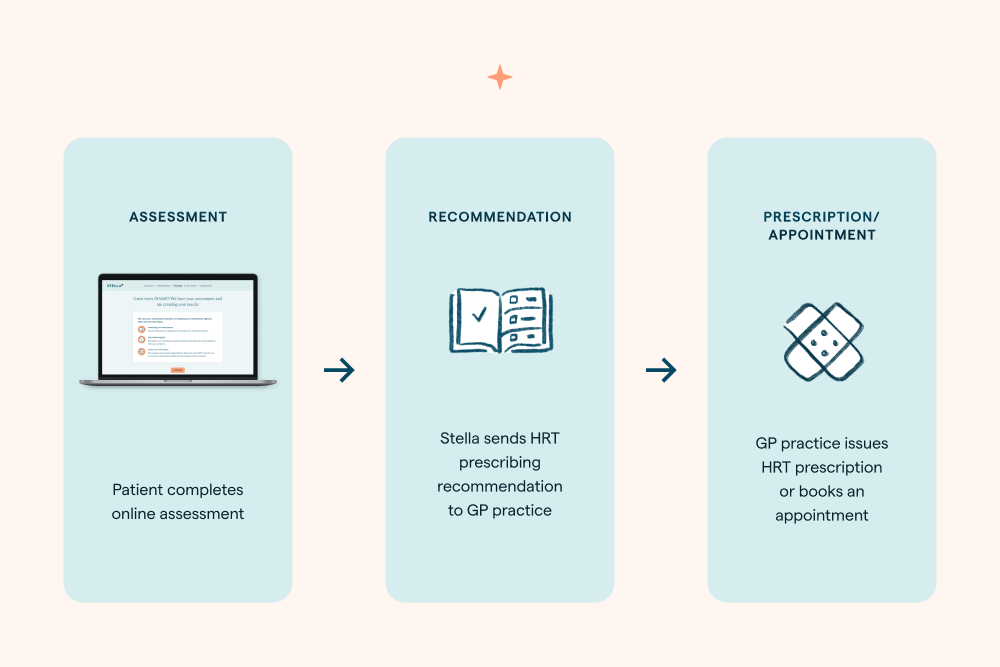 For low-risk patients, Stella recommends a specific HRT prescription if appropriate. This happens in 60% of cases
For higher-risk patients, an appointment is advised. This accounts for the remaining 40% of cases. Your surgery is sent a detailed summary of all clinical findings, including a full medical history, to facilitate a more productive consultation
All patients can use the Stella app, which encourages healthy habits – such as pelvic floor exercises or mindfulness – to help alleviate specific menopause symptoms. They can also access real-time support via in-app coaches. More than 75% of people see an improvement in their symptoms after completing a plan on our app
Book your demo
Email nhs@onstella.com to book a 30-minute call. We look forward to hearing from you!