About us
Wherever you are on your menopause journey, we are here to help every step of the way with information you can trust.
Menopause symptoms can affect how you feel about yourself, plus your life at work and home. This life stage is an important time where the small changes you make can have a big impact on your health now and in later life.

We aim to inform and inspire you to understand which changes to make through our menopause app, blog and social media. We are here to help you find a way forward and to make decisions about your care and treatment with our expertly-authored articles. You can also find reassurance from our interviews with people about their menopause experiences.

Cut through the noise with Stella and let us be your guide as we examine the scientific evidence behind the headlines. We're here for you without judgment and accept you as you are.

Get started by visiting our blog articles, the Learn section on our app, watching our Q&As with experts, signing up to our newsletters or joining in with our social media communities.
Why Stella?
"We created Stella because most people do not have access to the menopause care they deserve. Our ambition is for you to get the best clinical care, access to specialists and community support through Stella, regardless of where you live and your health situation. No menopause is the same and your care needs to be personalised. By helping you manage your menopause symptoms today, we can help you live your happiest, healthiest and most productive life now and in the future."
Andrea and Rebecca, Founders of Stella
Our content
We aim to make content as easy to understand and accessible as possible across Stella's website and app. We provide information you can trust when it comes to the latest science so you can make informed decisions when it comes to your menopause.

Content on our website and app is created in collaboration with a range of clinicians and healthcare professionals and goes through a rigorous fact-checking and review process. We encourage you to get involved and be part of our supportive, inclusive and respectful community where harassment is not welcome.

On our blog, The Latest, our content is written by doctors, psychotherapists, nutritionists, personal trainers, sexologists, experienced writers and more. Our medical reviewer checks our content for accuracy and we cite all primary reference sources within the text or at the end of each blog. We update our articles if there are any research or scientific developments so information is always up-to-date.

We also invite people to share their menopause stories and welcome all backgrounds and cultures. If you have a story to share or want to report an inaccuracy, let us know by emailing hello@onstella.com.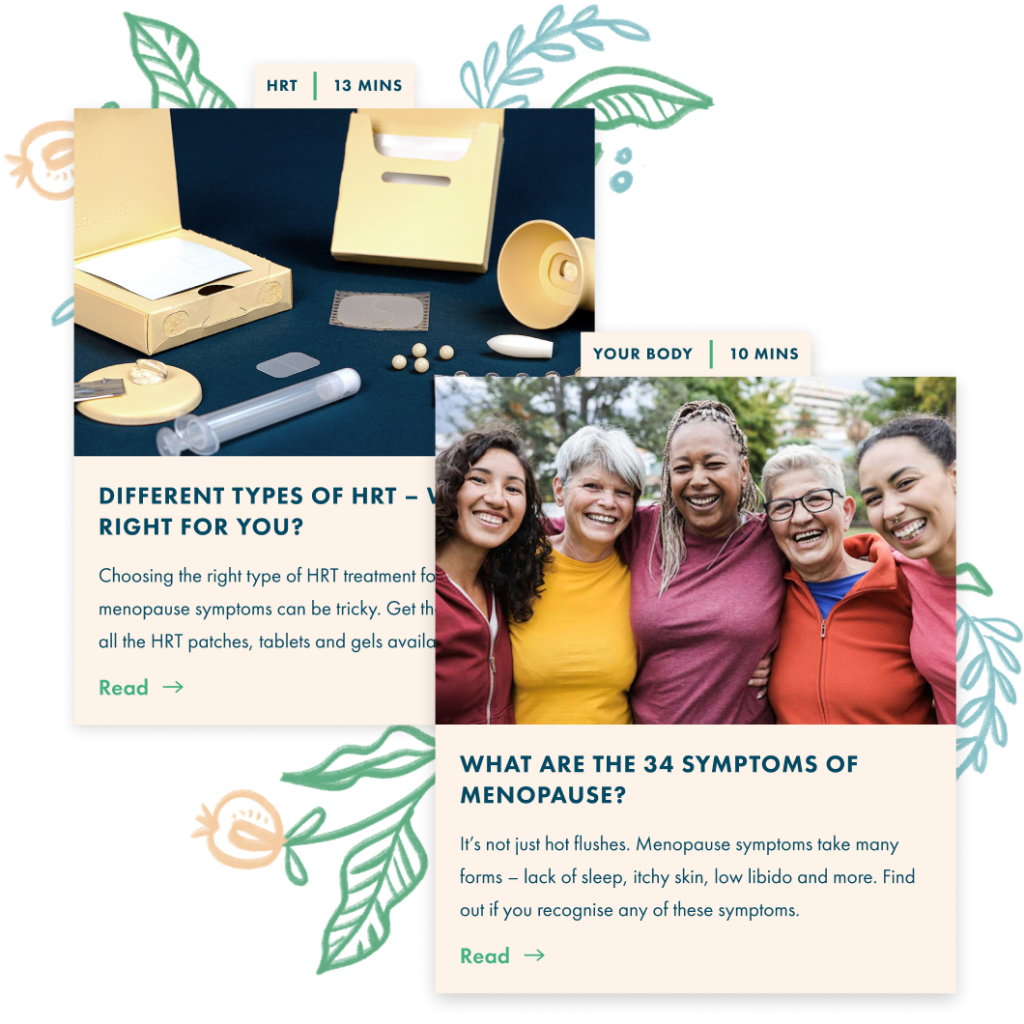 Our editorial team
---
Our policies
PRIVACY POLICY
We take data security and privacy seriously for all our users. If you have any questions, please email us at privacy@vira.health.
Read more about our Privacy Policy.
TERMS & CONDITIONS
Once you have set up an account, and are eligible, you will be able to access our online menopause consultation, which has been designed by clinicians and clinical advisors. You must be aged 40-60 years old and of female biological sex to take our menopause consultation. This is because we can only prescribe HRT for people born with a uterus.
While we support and respect people's right to choose their own identity, and are working to make our service more inclusive to a broader age range, we have to set these limits for clinical safety and to adhere to clinical guidelines.
We recommend talking to your own doctor about ongoing medical conditions and calling your doctor or 999 if you have a medical emergency.
Read more about our Terms & conditions.
Contact us
Work with us
Want to help us make better menopause care the norm? Take a look at our job openings.
Get in touch
Something not working, got a question or want to propose a partnership? Email us at hello@onstella.com
Get the latest about menopause in your inbox
We send out a weekly newsletter with useful information and tips to help with menopause symptoms – you can subscribe here.
Vira Health
There is a gender data gap in healthcare and that means long-term consequences. Vira Health's mission is to extend healthy life expectancy by reducing the prevalence of later life conditions, such as osteoporosis, cardiovascular disease, diabetes and dementia. The company has started with better menopause care and the Stella online menopause clinic and app are Vira Health's first products.
Vira Health has completed a preliminary study of Stella app users (n=76) who have completed multiple symptom check-ins. Results show a statistically significant improvement between average baseline and final symptom scores – the majority of users reported symptom improvement. Users who complete a full plan are more likely to improve than those who don't. The final results from this preliminary study are being developed into an academic publication.