Menopause

headaches
Headaches are more common around menopause due to fluctuating hormone levels. If you have had headaches in the past – especially if you get migraines – you may notice menopause headaches are more frequent or more severe.
Don't panic yet, there are things you can do to address this frustrating aspect of menopause. Read on to find out more.
HEADACHES DEFINITION
Many different kinds of headaches can affect affect you during menopause. The two most common are:
1. Migraines: These can be severe, usually one-sided headaches that may be associated with nausea, vomiting and sensitivity to light and noise. Migraines can be preceded with sensory changes known as aura. These often cause changes to your vision, including seeing flashing lights or zigzag lines
2. Tension headaches: They are often described as a band-like pain or pressure around the head which lasts from 30 minutes to several hours
In this guide, we focus on migraines as this kind of headache is the most affected by the hormonal fluctuations of menopause.
Start your free online menopause assessment to see if HRT is right for you
WHAT DOES A MENOPAUSE HEADACHE FEEL LIKE?
Maybe you don't realise what you are feeling is a headache, just that you have noticed strange head sensations in menopause. Here are some of the ways headaches can appear:
Strange head sensations
Pulsing in your head
Throbbing
Tight band around your head
Buzzing
Sensitivity to light or sound
Nausea
Fatigue
Dizziness
Menopause headaches can have a knock on for other symptoms, including sleep issues, anxiety and depression.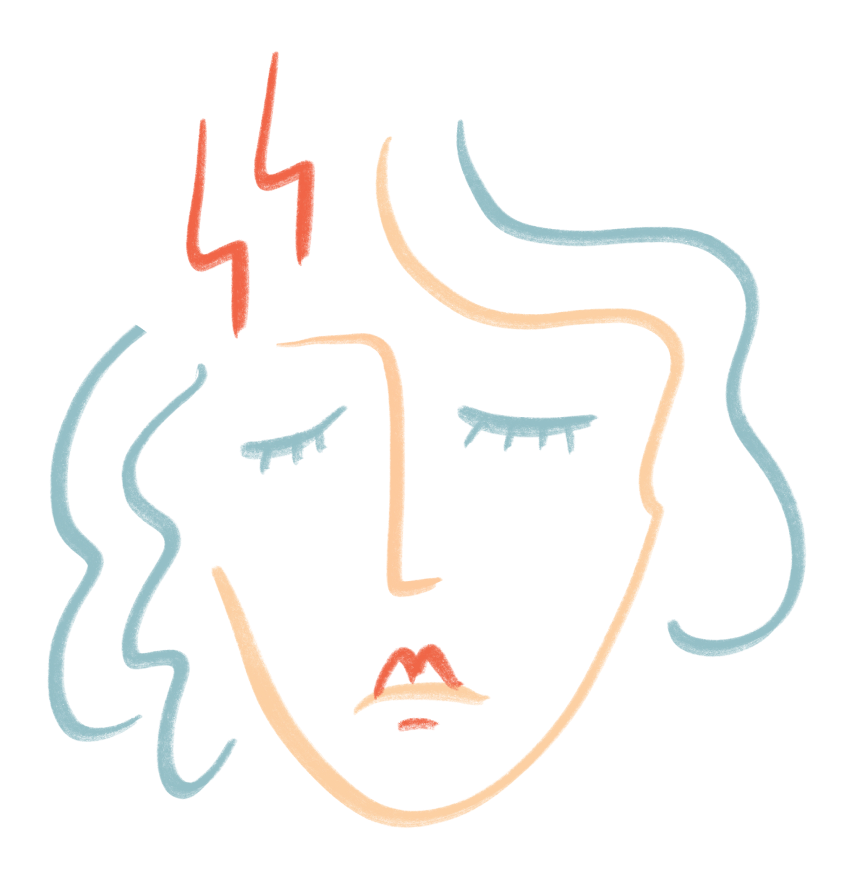 HOW LIKELY ARE HEADACHES DURING MENOPAUSE?
Fairly common
One study of over 500 postmenopausal women found that 13.7% of them suffered from headaches
Of these, 82% said that their headaches had started prior to menopause
Read more about the stages of menopause or aches and pains symptoms.
HOW CAN YOU REDUCE PERIMENOPAUSE HEADACHES?
1. Diary. Try keeping a diary of your headaches (including dates, times, symptoms and possible triggers). This will help you and your doctor to identify any patterns, especially if your headaches are linked to your menstrual cycle.
2. Healthy lifestyle. Minimise alcohol, caffeine and any other known headache triggers. Take some aerobic exercise and aim to get enough sleep with a regular routine.
3. Talk to your doctor. Headaches can be caused by a number of different conditions, many of which can be treated effectively once they are diagnosed.
4. Relax. Other recommended measures include yoga and acupuncture.
---
WOULD HORMONE REPLACEMENT THERAPY (HRT) HELP?
HRT is not a treatment for migraines, although those with migraines can use certain types of HRT to control other menopausal symptoms. People with headaches have a variable response to HRT. Overall, migraines generally get worse with hormone treatment.
If you are taking HRT to control other menopausal symptoms and find that it makes your headaches worse, you may benefit from switching to a transdermal preparation (HRT patch or gel), or from a reduced dose of oestrogen.
For those with migraines, a transdermal preparation (HRT patch or gel) is usually the safest. This is because those who regularly experience migraines may be at risk of certain conditions. Taking the HRT transdermally greatly reduces this risk.
Although HRT is beneficial for some, it is not suitable for everyone. Speak to your doctor about whether it is right for you.
Read more about the HRT debate.
Keeping a diary has helped me figure out that too much caffeine triggers my headaches."
NHS, 2018,Hormone Headaches, accessed 5th March 2021 

NHS, 2019,

Migraine 

NHS, 2018,

Tension-type Headaches 
Neri I, Granella F, Nappi R, Manzoni GC, Facchinetti F, Genazzani AR, Characteristics of headache at menopause: A clinico-epidemiologic study,

Maturitas

, Volume 17, Issue 1, 1993, Pages 31-37

Migraine Trust,

Menopause and Midlife 

National Migraine Centre,

Migraine, Menopause and HRT

Kuruvilla D,

Understanding and Treating Headache Related to Menopause

, American Headache Society

Lauritsen CG, Chua AL & Nahas SJ, Current Treatment Options: Headache Related to Menopause—Diagnosis and Management.

Curr Treat Options Neurol

20, 7 (2018)